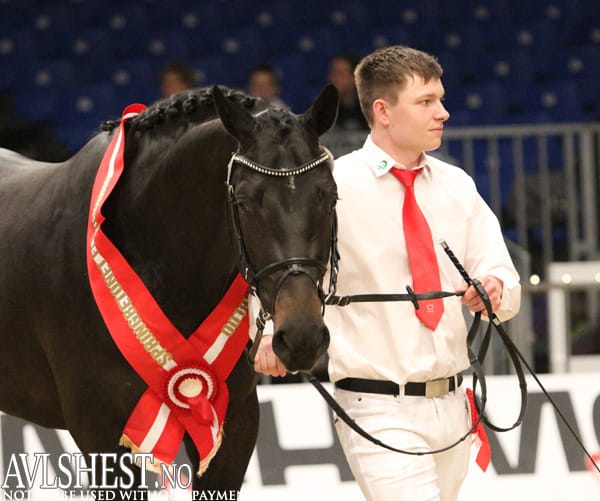 Favorit Ask (e. Diamant de Semilly/Darco/Quidam De Revel)hadde hele fire hingster uttatt til kåringen i Dansk Varmblod i år fra sin første årgang.
Av disse stilte tre til kåring, og to ble kåret. French Match Ask (ue. Contendro I) ble sågar utnevnt til fløyhingst i det sprangbetonte holdet med 9,5 i teknikk og 10 i kapasitet.
– Har hele pakken
– Da vi valgte fløyhingsten i sprang valgte vi en klassehingst som som har hele pakken. Flott modell, sterk morslinje og store prestasjonsegenskaper sa avlskonsulent Karina Christiansen om French Match Ask e. Favorit Ask/Contendro I. En fantastisk flott og velbygget hingst. Høystilt, storrammet og velmarkert med hingstepreg. Galoppen er rommelig og hingsten hopper kraftfullt og med hurtig reaksjon og fremragende kapasitet. Han viser oss det vi ønsker oss av fremtidens spranghester: Hurtighet, letthet og mot. 9,5 i teknikk og 10 i kapasitet.
Favorit Ask gikk selv i Herning, hvor han bl.a. gikk feilfritt i Grand Prix.
S.E. Chloé (e. Crelido/Corland) har to avkom etter Favorit Ask, nemlig S.E. Embla og S.E. Estelle, født henholdsvis 2011 og 2012.